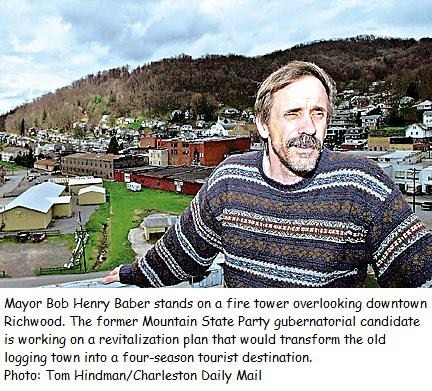 In an article at the Charleston Daily Mail, reporter Jared Hunt reports that the Mountain Party has unanimously nominated Bob Henry Baber as their nominee for Governor.
Baber was the first Mountain Party member ever elected to public office when he won the 2004 Richwood mayoral election. He had lost out to (Jesse) Johnson for the party's gubernatorial nomination earlier that year.

He acknowledged that being a third-party candidate is an uphill battle.

"It's a tough way to go — you don't have a lot of finances; you've got to do a lot yourself," he said. "Our party is a party about the truth, and sometimes telling the truth is not the most popular thing in the world to do."
Addressing one of West Virginia's blessings, and burdens, Baber said

"We are hooked on coal, the whole country's hooked on coal and oil, and we're going to be for the foreseeable future," he said. "But we absolutely need to start a plan to get off coal and oil. We should have done this a long time ago, and now it's time to start."
Coal mining has offered West Virginia's working families jobs at above average wages, but has despoiled much of their land and killed and maimed many miners, with the benefits enriching a small number of mine owners and others similarly situated.
H/T to Independent Political Report and writer Daniel Surman.